Cool sounds, free food, and fun activities draw locals to new free youth events in Horowhenua

Recognising a need for a safe place for Horowhenua youth to just 'hang out' led to eight youth-focused organisations coming together to set up the first Taitoko Vibes event on Wednesday, November 10, 2021.
Members of Muaūpoko Tribal Authority, Rangatahi 4 Waiora, Te Whaioro Trust, HLC, Life to the Max, UCOL, Raukawa Whānau Ora and Onboard Skate gathered at the Village Green with the Horowhenua District Council to provide a range of activities to suit all ages.
Michelle Rogerson, HDC's community and social development manager, said the concept of Taitoko Vibes began with observations of issues happening at the Paul Ireland skate park.
Free food and cool sounds - the perfect way to attract youth to the first Taitoko Vibes event at the Village Green on Wednesday. Photo / Nikki Carroll "Earlier this year it was noticed that a number of rangatahi were hanging around [there] with nothing to do and the area was becoming a trouble spot."
But the original idea of providing some focus to these youth was instigated by a conversation held with a disengaged 12-year-old local boy.
Celeste Littek, a Levin-based school learning support coordinator, said various social workers and educators were struggling to help this student reconnect when a surprise conversation provided the hook.
"One day he told us he had cleaned up some broken glass at the skate park ... when we asked him why he said 'Because if someone gets hurt, they might close the skate park and we don't want that'.
" Taitoko Vibes was all about whanau - even the littlest people could have a go at the giant chess game. Photo / Nikki Carroll Speaking to various youth organisations in the area, Littek realised that no one agency could take on the full responsibility of providing solutions so, along with others in the community, began to set up hui across relevant support networks.
Local youth support, parents, schools, iwi, council, and police came together to discuss a programme promoting positive connections and experiences for young people.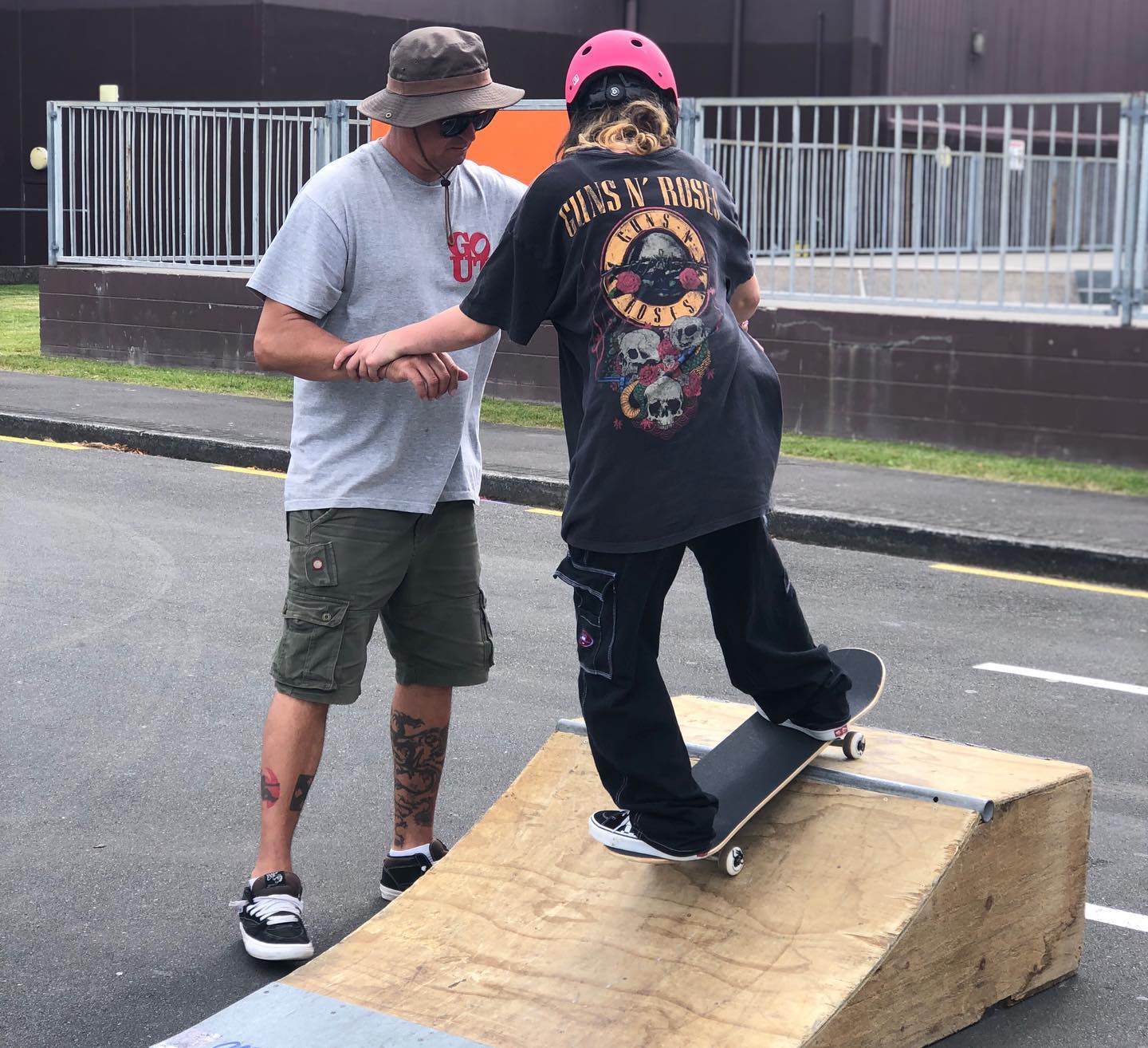 One of the people Littek reached out to was Steve Hodges, owner of OnBoard Skate, a Palmerston North based business who were already providing regular skateboarding sessions at a couple of Levin schools to help re-engage some of their senior students.